Bass Boat - For Sale
Ad posted on 8/3/2006
(demo photo swiped from someone else's website)
Basshound 10.2
---
. .
. .
For a great Advertisement about this boat look here. You will note this retailer charges $1120 for this boat without a motor or battey. My boat includes a new motor and new battery, and has never seen salt water. My boat is indistinguishable from new. My boat does not include a trailer. The boat weighs only 175 lbs. and is therefore very easily carried by 2 people. The Basshound 10.2 was made to be carried in the bed of your pickup truck. (Obviously accessory trailers are available). I am asking $575 for this boat and motor & new battery.
.All photos below are of the actual boat I have for sale.
---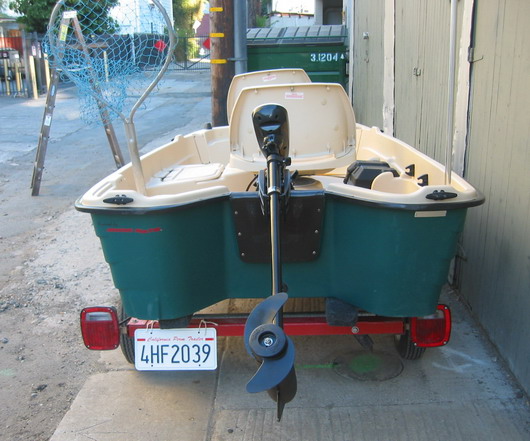 (Trailer is not included)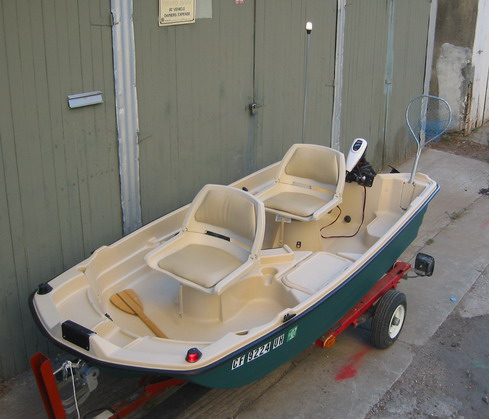 Trailer is not included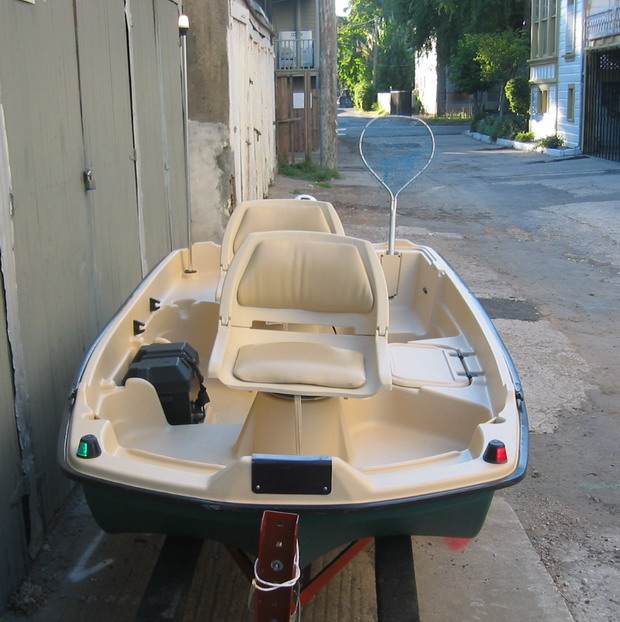 Note mounting bracket for outboard at bow. Note all 3 running lights work.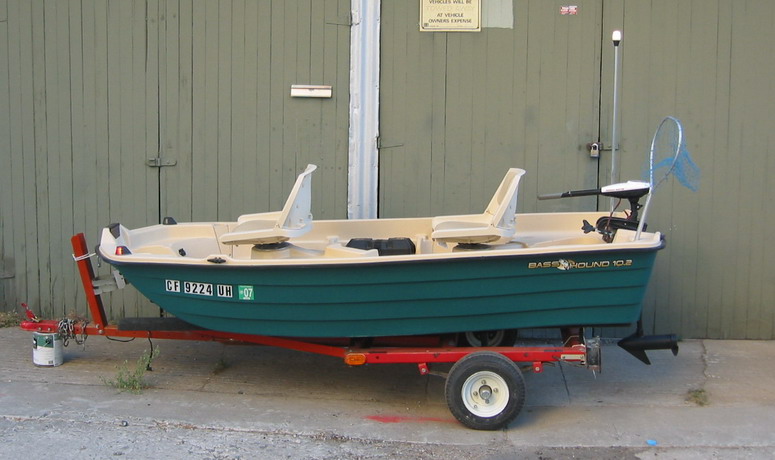 Boat has California Registration (a $200 value (or much more if you value your time as I do)). In other words, it's a stinking hassle to take the vessel to the DMV and convince those idiots you're not a terrorist, and that the Coast Guard doesn't have you on their "most wanted" list.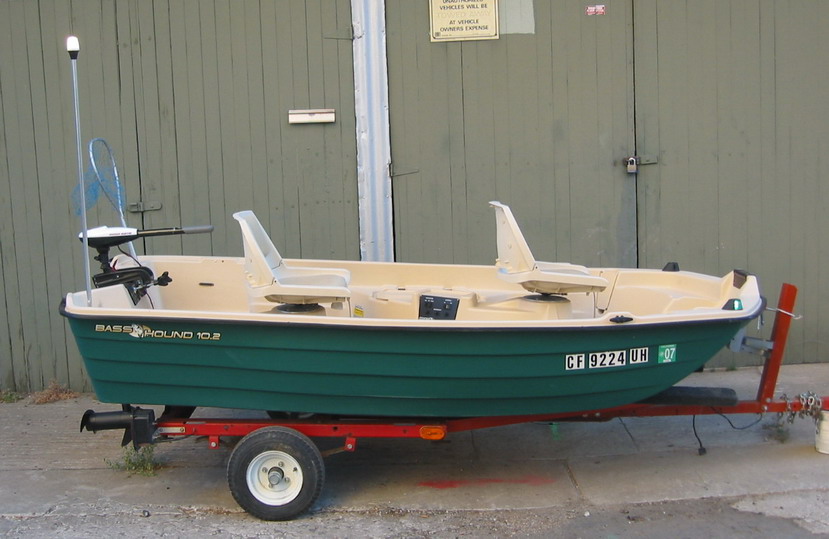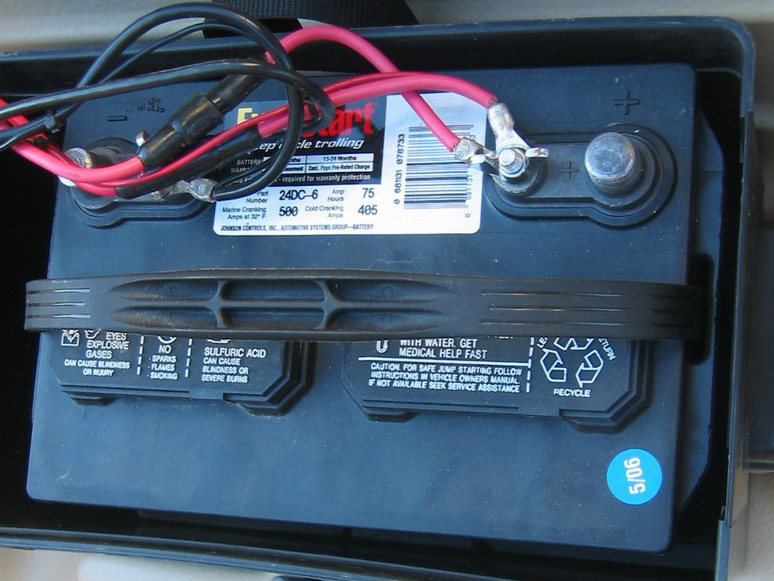 Please note that the battery was manufactured in 5/06 and you can see it is a 75 Amp Hour Deep Cycle Trolling Battery. This is the only suitable battery for this application.
---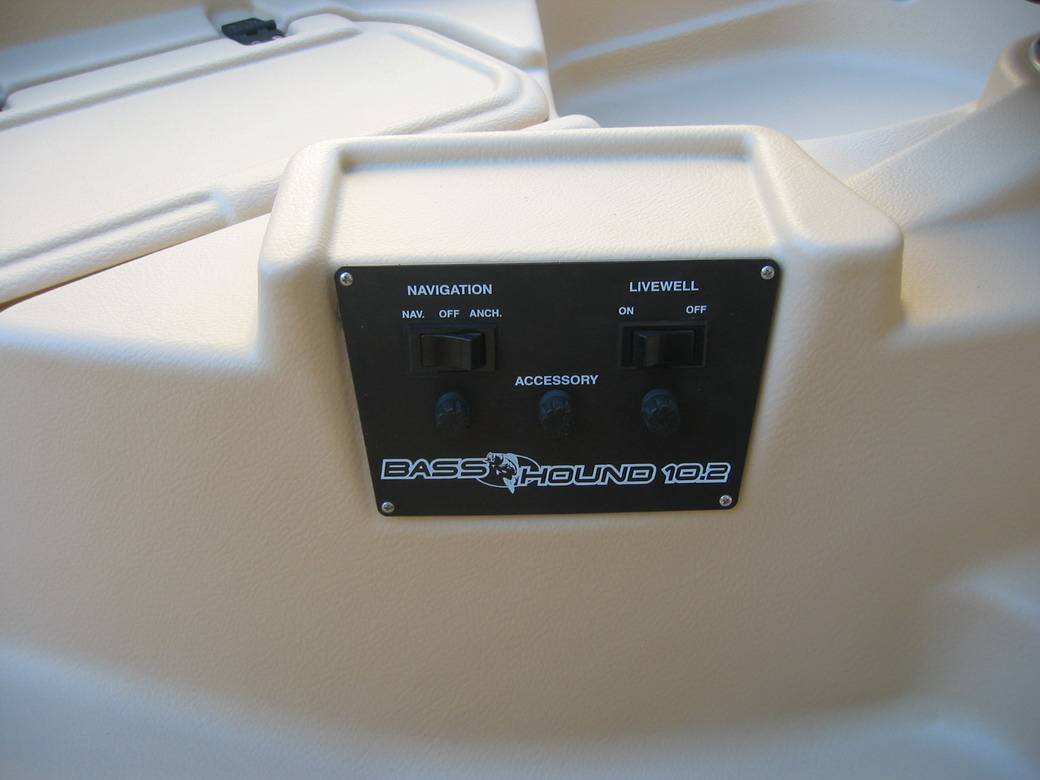 .This Accessory Control center has switches for the boat's running lights and it's bait tank.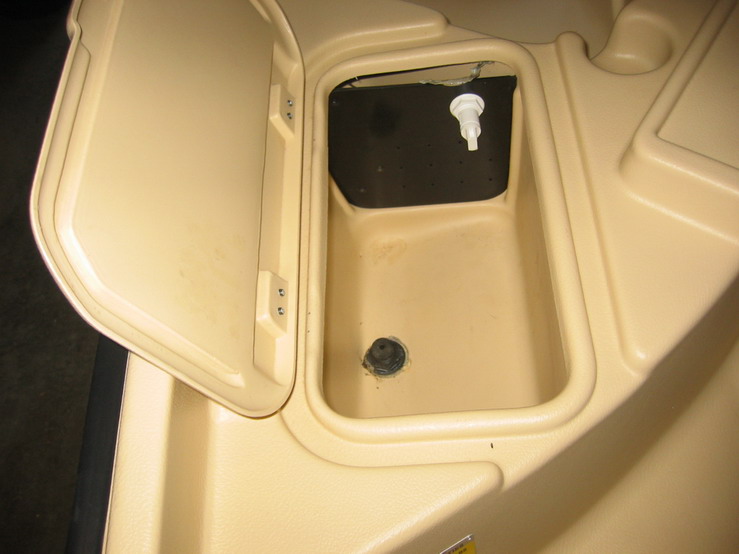 .Live Bait Tank (with folding door open).
.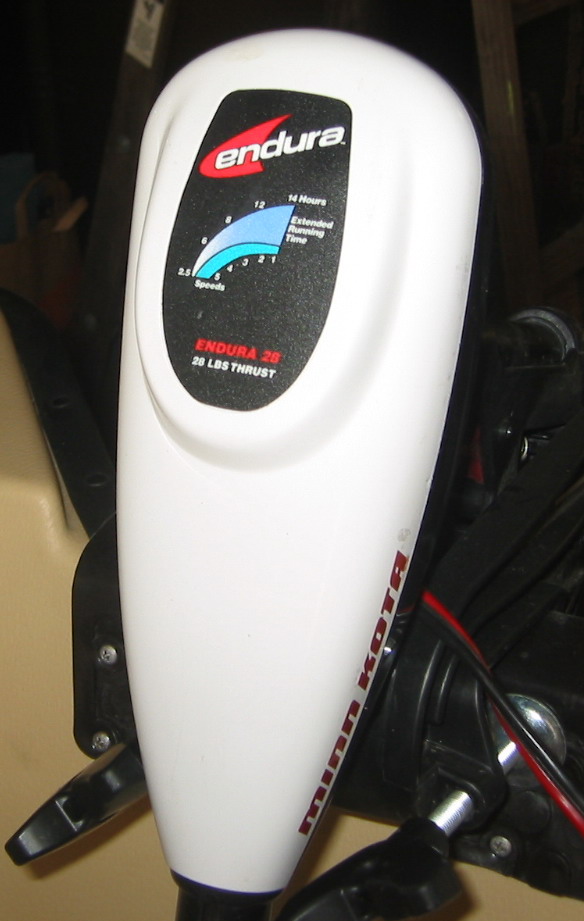 Minn Kota Motor with 28lbs Thrust. Not a Saturn V rocket, but you'll get there! A constant 28lbs pressed against such a small vessel moves it right along.
---
---
I am offering this boat at a terrific price. You are ready to fish, or ready to simply have a very quiet, very simple, very reliable boat with which you can enjoy any lake or river. I live in Sacramento, and I have found that this boat will go upstream slowly but surely in the Sacramento River. I don't set speed records, but it is very pleasant. You can venture out onto environmentally sensitive lakes like Mono Lake or Lake Tahoe knowing you are not compromising the environment. This boat does not spew petrochemical residue into the habitat of fish and water fowl. It is quiet, simple, and reliable.
I have used outboard (gas) motors since I was 7 years old. I was very skeptical of electrical powered outboards. I was very favorably impressed. Electric power is gradually supplanting diesel in larger sailboats as the power of choice (read here).
This boat is obviously set up for bass fishing. And, we're in the height of the bass fishing season right now.
But, it is also a great general purpose boat. I have used it as a dingy to a larger vessel. I have used it to travel up the Sacramento River by night to watch fireworks...It has better running lights than most the larger boats I pass (Ok, that pass me). I have also used this boat as a tender for radio control boats that I have used on local lakes. This boat is virtually indestructible. It will look new for many years to come, and requires extremely minimal maintenance.
You'd better come buy the darn thing before I decide to keep it!
You may wonder why I am selling it. (And, I am, too). I am selling this boat because I own another boat roughly the same size that I recently had shipped to me from Florida. My garage is huge...but it's already full to exploding with toys.
I can deliver this boat (or at least discuss delivery with you, depending on where you live) for $1 a mile.
Otherwise, you can come see it in downtown Sacramento where it is kept in a garage.
Price: $575
---
Mark Blackburn call me: 916.870.1658